INVESTING IN REAL ESTATE IS BETTER THAN INVESTING IN FIXED DEPOSITS
The pandemic has hit the market hard and has created extreme uncertainty about investments, jobs, etc. With every market facing the brunt of it, the biggest question among the masses is which sector is safe? Where the majority are trying to hold on to their savings without choosing to invest anywhere, a clear insight is required on the best way to not only safeguard one's assets but also increase them.
Different investments offer different opportunities for long-term growth but given the current uncertainties, is one willing to risk it? The stock market has been a very viable source of investment in the past years given one was ready to navigate through the risk factor but in the present scenario one might end up with a lot of money one day and none at all the other because of the heightened volatile and unpredictable nature. This is a big risk for the general populace. Then one might ask, is there a safer, risk-free investment option available today? Indeed there is.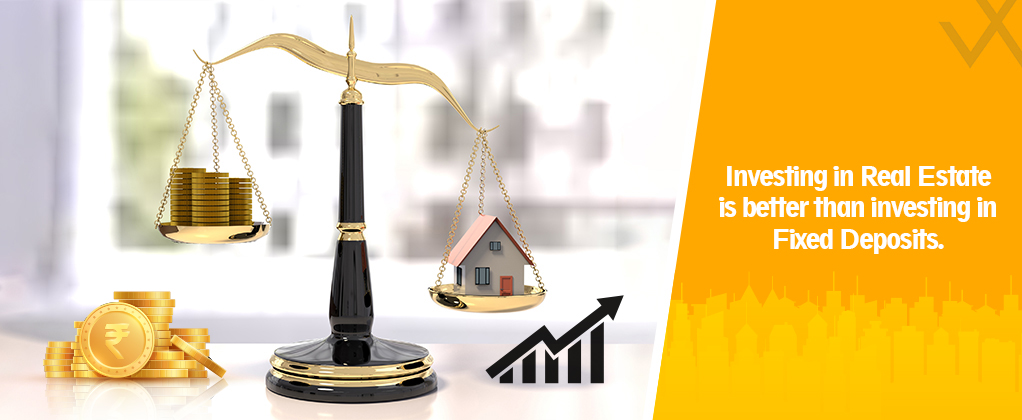 ● The real estate sector has been on the climb since the past few years because of the reformed regulations, implementation of RERA and a number of other reasons.
● The price-points has been almost the same since 2016 and hence, there could not have been an opportune time to invest in Real Estate than now as the only way forward from here is upwards
But in the new normal is choosing the safe fixed deposit investment over buying a house the right call to make?
● The reduced home loan interest rates facilitate homes loans lasting for about 15 to 20 years at around an interest as low as 7 per cent.
● Exciting offers on homes further make the home buying process profitable for the customers.
By investing in a home at  one can not only own a slice of one of the masterpieces but also invest in a brighter tomorrow and a one-of-a-kind lifestyle. The elegant homes reflect the refined taste and rich sense of aesthetics for the aspirational minds.
Additionally, given the interest of the government to help sectors rise during this crisis, including real estate, better and advanced developments are bound to happen. RBI's decision of linking the home loan rates to repo rates will help home loan takers benefit from a reduced interest rate whenever the RBI reduces the repo rate. Plus, the new rental laws will make the entire renting process safe and secure for the investors. These advantages of investing in real estate make for an extremely profitable long-term investment along with possession of their own property. Moreover, if one chooses to invest in a home at Regent Hill – B Wing, they can become proud owners of an iconic property with exponential gains.